NEW GREEN/BLUE COACH : Josh – Woden Valley Swim Club
Phone, Suggest a phone number · Address, Suggest an address Josh's swim team wear orange swim caps this season & many of his team mates swim for him. Gracie is one of those Gage's 1st swim meet this year! 1st in all three events. Part 1 of a two-part guide for swimmers and parents to enjoy their first swim meet. Club Captains Election – final reminder "Hi, I'm Josh, I was a National Butterfly Swimmer under Coach Steve during his time.
Swimsuit — Find a swimsuit that is durable and fits properly. The straps should be fixed, and should not tie.
The suit should be very snug to your body, to reduce drag in the water. Avoid padding or built-in bras as they will slow you down and will not give you support. In competition the suit can not cover above the navel or below the knees. We highly recommend wearing them. There are different types of goggles for different types of swimming: Swim cap — Swimming with a cap will make you faster, and will ease the stress of having to worry about getting your hair in your face.
We recommend silicone or latex. Lock — Unfortunately, there can be theft at swimming pools. We recommend bringing your own spinning lock so you can store your belongings in a locker while you swim.
First Swim Meet - The Swimmers' Version
So bring a towel, some sweatpants, a hoodie and some tennis shoes to keep your body warmed up all day. Pack some healthy options that are filled with protein, fiber, and carbs. You may find that you prefer to compete on a more empty stomach, or you may find that you need to refuel between heats with some protein. Pack snacks like string cheese, fruit, granola bars, peanut butter, or granola. Having healthy food to fuel your body will be better than starving and having to buy the pizza at the concession stand!
Drink water or a sports drink all day long to prepare your body for your races. Write your name on your bottle, in case you leave it on the pool deck after warmup. Stay out of the sun as much as you can before and after your race, and always wear sunscreen.
To learn about how pools are set up for swim meets, click here. Swim meet officials and volunteers are extremely friendly and love to help swimmers enjoy their time competing. At the completion of the pool renovations, the Civic Center once again opened its doors in March of There was not a team again until Dennis Schlitter assisted her.
The following year, Mary Jo Baron assisted then took over coaching responsibilities until late fall of She was assisted by Cynthia Highland for one year. Adapting team colors to navy blue and gold, the team members purchased suits.
Oologah Swimming Pool
Thirty swimmers joined the Blue Dolphins in the fall of All were USS members and only two were over twelve years of age. Dorell Hawley was employed as coach in September of and Brian Tydd, delayed due to his full time job, returned in November. The Lincolnland Conference accepted the Blue Dolphins as a member for the winter conference in In late June ofSarah Knobloch was hired as head coach.
The team membership was about twenty at the time. Over the next two years, the Sullivan Blue Dolphins sent several swimmers to the state championship meets with much success. Ten year old Seth Dunscomb was the50 and yard freestyle state champion at the Junior Olympic Championship, which was held in Glen Elyn, Illinois. She remained head coach, building the team to fifty swimmers, until March Michelle Snelson was hired as head coach for the summer season of and coached until March Tracy Johnson coached the summer of In the fall ofKhristopher Scarcliff became the head coach.
The numbers had seriously dwindled over the summer but he managed to recruit enough to set the team with thirty-three swimmers for the season. The word was out In the fall ofShane Bennett became Head Coach. Shane was a student at Eastern Illinois University. He coached the team until the fall of It was during this time that the Sullivan Civic Center Pool was once again closed for repairs.
Serious concerns regarding the roof structure threatened to shut the pool permanently. Fortunately, after a two year construction period, it was re-opened in the fall of The newly remodeled facility once again offers the Sullivan Blue Dolphins a beautiful pool to call home. She was hired by the Mattoon School District for the school year.
Jennifer participated in competitive swimming for over ten years and coached the Effingham Swim Team. Josh swam competitively for 13 years and coached the Mt.
Sullivan Blue Dolphins - About
Josh Kercheval was hired as the new Summer Season Coach. Josh started his swimming career under Coach Knobloch. Josh has had a very successful college career swimming for Eastern Illinois University.
Many parents in the community were requesting that we once again hold practice immediately after school.
Our conflict in the past had been that many of our coaches were students or held day jobs and had to travel from surrounding areas. Rene swam competitively for over eleven years as a member of the Sullivan Blue Dolphins.
Jena began swimming with the Sullivan Blue Dolphins at an early age. To this date she holds a Blue Dolphin record for her backstroke. Jena has two of her three sons following her lead and swimming for the Blue Dolphins, with the third waiting to be old enough.
Jason is another successful Blue Dolphin.
While swimming the years of to he was a Junior Olympic qualifier and placed fifth in the backstroke. He achieved Short Course and Long Course high point trophies. Jason also holds several Sullivan Blue Dolphin records. He used his swimming background in the Navy to become one of only two rescue swimmers on board the USS Constellation. He has one son swimming on the team and one daughter in training.
The coaching staff also included two very talented high school swimmers, Anna Stadler and Heather Gromley. They both assisted the young swimmers with technique when they were available after school.
This was the first meet to be held at the Sullivan Civic Center in several years. SBD hosted 50 swimmers from Springfield and Decatur. The meet was a great learning experience for beginning swimmers. The team had grown to forty-three swimmers. Anna Stadler and Heather continued to assist them at practices.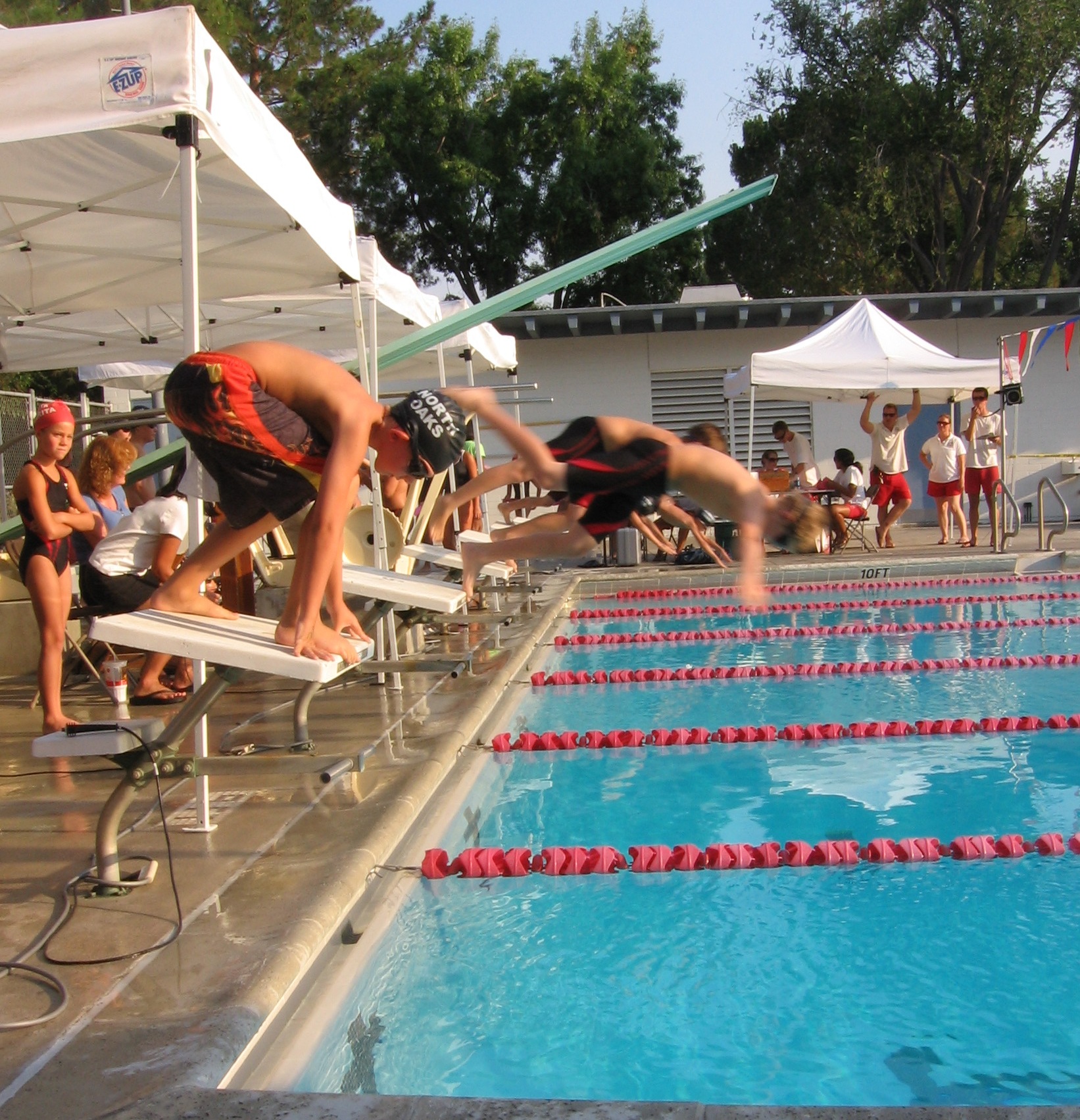 The community response was larger with over forty business and organizations sponsoring the event. The local community was invited to watch meet. The team is growing and learning more from each meet. The season still has Jena Atchison and Jason Drury working hard to keep the team growing. Incorporating different work out schedules to retain older swimmers and coordinate with the school programs. The team is growing in size and looking for new innovative ideas to keep up with the changing times.
Their help keeps the practices moving. Summer of the Blue Dolphins have a great turn out of new swimmers for the summer season. Coach Jena Atchison continues to lead the team in a positive direction.